How to draw grapes for beginners
At the beginning of our article today, we would like to show you the most important and beautiful drawings that may benefit you in many ways, as it can be said that they are the most famous of all, and before we get into how to draw, methods, and the most important tips and directions, we have to continue reading the most important information about what we will draw first .
How to draw grapes for beginners
Through the following steps, we will learn how to draw grapes step by step for beginners, through the following five steps, which we present to you today through our article.
 Step 1: how to draw grapes
In order to draw the grapes, we start this drawing from the bottom and draw 7 grapes overlapping among themselves
 Step 2: how to draw grapes
We continue drawing the grapes and draw many grains over what we drew in an overlapping manner, as you can see in the picture
 Step 3: how to draw grapes
We add many more grains. The head of the grape, which comes out in a straight shape, was drawn from the upper side
 Step 4: how to draw grapes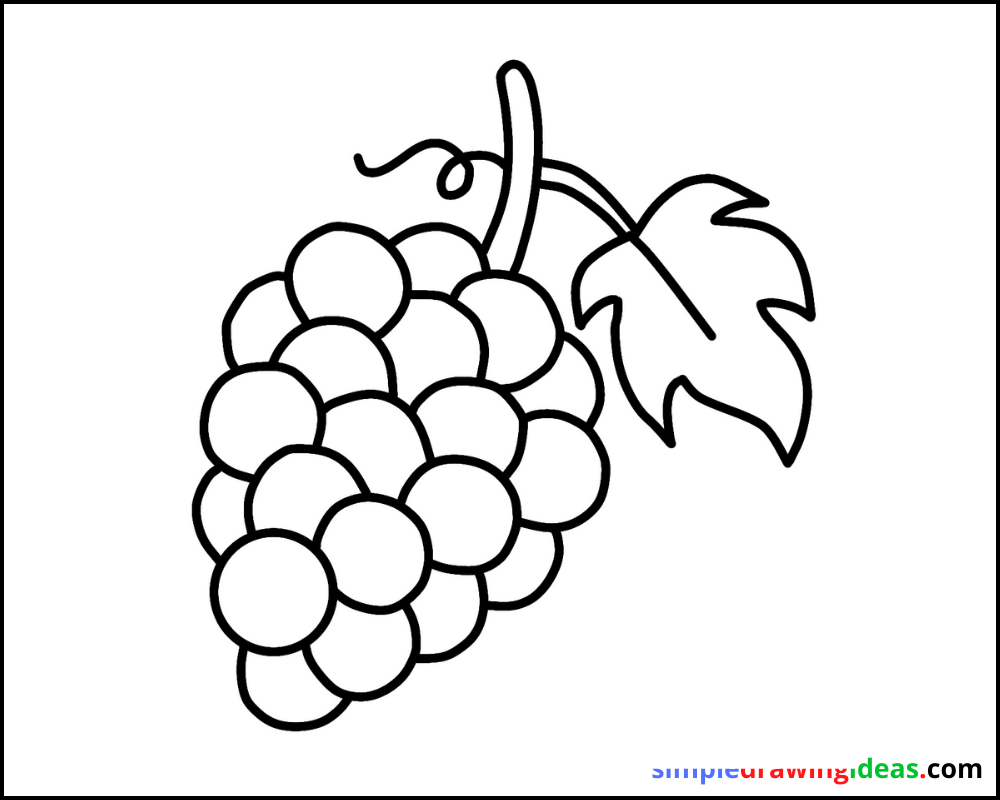 In this simple step, we add a grape leaf on the right side, and add a crooked line on the other side
 Step 5: how to draw grapes
After we have drawn the grapes step by step, we color everything we drew with different colors as you can see in the picture
For more drawing videos, you can visit my youtube channel: Easy Drawings.
What do you know about grapes?
Grapes are soft-skinned, pulpy, juicy fruits that grow on vineyards. The grapes appear on clusters, in which there are usually between six and three hundred fruits, The color of the grapes varies according to its varieties, and their colors are either black, blue, purple, golden, greenish or white.
The discovered fossils of grape seeds and its leaves showed that man has been eating grapes and feeding on them since prehistoric times, and grapes were known in ancient civilizations in the countries of the Mesopotamia, the ancient Levant and the civilization of the ancient Egyptians, and this was indicated by the inscriptions and drawings that were discovered in Syria, Iraq, ancient Egypt and Greece, which It was found in temples and archaeological inscriptions dating back to approximately 2440 BC.
Grapes are one of the fruits with good nutritional and therapeutic value It has been known since ancient times, as the Chinese and Indians ate it with a desire for its high nutritional value, Grapes are found in colors such as white, green, as well as black and red.
The benefits of grapes you should know well
Each cup (150 grams) of grapes, according to the USDA, contains the following nutrients :
Calories 104 .
Fat 0.24 .
Carbohydrates 27.33 .
Fiber 1.4 .
Sugar 23.37 .
Proteins 1.09 .
Develop children's skills through draw grapes for beginners
Visual education by eye has a fundamental and important role when it comes to developing children's skills and learning, and visual learning is one of the most important factors that help and provide a lot for the development of the child's mind, He has the skill to practice more than just listening and memorization by his teacher, and it has been proven that the visual image helps memorizing and remembering lessons, The image and visual teaching in general avoid verbal misunderstanding, as there may be a word that carries several meanings, making it difficult for the child to understand or remember.
It is often said: Humans, in general, tend to remember 10% of what they hear with their ears, 50% of what they see with their eyes, and 80% of what they do. This confirms the importance of visual aids in children's learning, developing their skills, and expanding their perceptions.
The benefits of draw grapes for beginners and coloring in developing children's skills
Create creativity and innovation for beginners
When you give your child the freedom to color pages and then print them for him, it is an excellent opportunity to show what is in themselves, and also show their talents, not only because it is a way to express themselves freely, but because it gives them the opportunity and freedom to come up with unfamiliar and different colors, and this in turn stimulates the sense of creativity within their minds, Coloring creates an imaginary world of their own, and every time they have the ability and freedom to re-color the colors and images, change and shape them in another way.
Coloring gives beginners the power of focus
Giving your child a long activity that he finishes is one of the best ways to strengthen the child's memory, and one of the best of these activities is coloring pages Sitting for a long time preoccupied with the coloring activity, trying to finish it in a way that satisfies him, strengthens the degree and level of general concentration of the child, and over time, this activity will give him a high concentration.
Coloring works on coordination between hand movement and eye focus for beginners
When we give the child a picture to color, he will hold the pencil in his hand, and from time to time he will check what he has done to decide which color to use next These activities, in turn, help him a lot in hand-eye coordination, as well as making sure that the colors will not cross the specified line.
Drawing for beginners encourages self-esteem and boosts a child's self-confidence
When a child accomplishes a task, let it be coloring a specific educational page, this gives him enthusiasm and motivation to complete any other tasks, especially if the parents encourage him and make him feel the importance of what he has done With time, it will enhance self-confidence, and make the child able to perform any task asked of him.
Coloring the drawings helps the child to identify things quickly and easily
As we mentioned in the previous lines, the picture lessons are easily memorized by the child, compared to anything else For example: when you give your child a picture to color, let it be a picture of a bird, he notices the lines, the shape and the name, and this helps him very much to identify this picture the next time he sees it, this The method facilitates the identification of objects and beings in the surrounding environment, as well as strongly helps to build general knowledge over time .
Conclusion
At the end of our article today, we hope that we have explained to you everything related to how to draw grapes for beginners through the previous lines, and we always wish you to enjoy our article.
More videos:
How to draw grapes step by step
Keywords:
how to draw, drawing, easy drawing, learn to draw, simple drawing ideas, simple drawing, drawing ideas,
things to draw, stuff to draw, how to draw grapes, grapes drawing, easy grapes drawing, how to draw grapes step by step.