How to draw an Umbrella.
Hello Guys, welcome to this simple tutorial, today I will show you how to draw an umbrella step by step for beginners, in this lesson you will learn with us how to draw easy drawings like this easy Umbrella.
For more drawing videos, you can visit my youtube channel: Easy Drawings.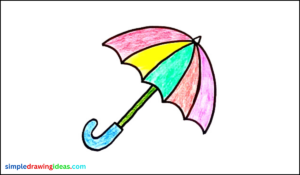 As you all know, some drawings can be very difficult in the beginning, but dividing them into steps, makes us draw that drawing without facing any difficulty because each step is very detailed and clear.
Let's get started.
Fore more drawing videos, visit my YouTube channel: Easy Drawing
Step 1:
Draw a diagonal line in the form of a semi-circle and put a small arrow pointing upwards in the middle of it, as you can see in the drawing.
Step 2:
Draw wavy lines in the middle of the semicircle that we drew before,
Step 3:

Now draw four curved lines extending from the middle of that circle to the vertex of the umbrella.
Step 4:

Draw two straight lines coming out of the middle of what we drew.
Step 5:
Draw the place of the hand in the umbrella,
Step 6: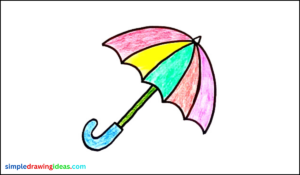 Finally, we did it, this is how to draw an umbrella step by step for beginners.
As you can see, we have drawn an easy umbrella in a few simple steps.
You can visit: easy winter drawing